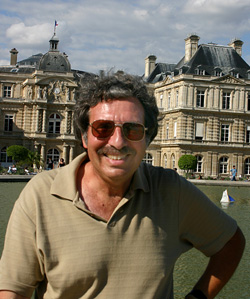 Jim Steinhart is a travel photojournalist who has documented over 75 countries. His photos & articles are published in major book & travel publications plus by the travel industry. Having been blessed with the opportunity to see the world in depth, Mr. Steinhart started the Travel Photo Base website to allow web users to share his visual experiences. Mr. Steinhart hopes the site will also help people become better travelers and better photographers by learning to see what is around them.

Mr. Steinhart earned a degree in biophysics from the University of California at Berkeley in 1967. After graduate studies at UC San Diego and then the University of Ottawa, he spent several years as a social activist in the domain of urban planning and as a freelance writer & broadcaster. He then held a number of positions as a manager with the transport and environment ministries of the Government of Canada.

Using his computer training, he then started a consulting business in 1981 setting up specialty databases for a number of major companies. At the same time he resumed his journalism specializing in both computers and travel. Combining these travel, computer and journalism skills, he has been involved in creating a major website dealing with travel since 1995.